If you regularly bump up the thermostat to compensate for drafts, you may benefit from upgrading your home with modern windows. Even if you cannot feel a draft flowing into your home, the windows ma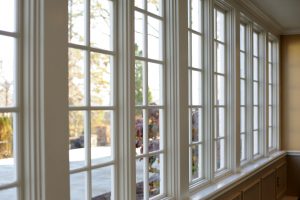 y be allowing heat transfer through the glass. Modern improvements to residential windows have dramatically increased their energy efficiency, which puts money back into your pocket over time. Here are the three main ways replacing your windows will end up saving you money.
Decreased Energy Bills
High-quality replacement windows improve the insulation of your home and keep indoor temperatures at a comfortable level. Since modern windows eliminate drafts around the sill and temperature transfer through the glass, HVAC equipment does not have to kick on nearly as often. You will likely notice a marked decrease in your year-round energy bills as a result.
Reduced HVAC Equipment Wear
With the heater and air conditioner running less often, and for far shorter periods, wear and tear on the equipment decrease. Without high levels of wear and tear, the internal components may remain within the ideal service limits for an extended period of time. Even though the equipment runs less often, it is important to maintain a regular maintenance schedule. When it comes time to schedule your next round of heating and air conditioning repair, call 727-442-6158 to schedule an appointment with Cox Heating & Air Conditioning.
Tax Credit Opportunities
If you upgrade your home with energy efficient windows, you may qualify for a credit on your taxes. The 2016 tax credit covers up to 10% of the cost of the windows. The credit maximum for the year is $200. Only windows carrying the Energy Star qualification are eligible for the tax credit program.
No matter your future plans, money spent on home upgrades and upkeep is a wise choice. Modern replacement windows help keep money in your pocket long after investing in this upgrade. Maintaining your heating and cooling system has the same power to save you money in the long run. Investing in your home will also help increase its market value and comfortable living conditions.