Getting ready for a serious getaway? You know you can lower your utility bill by adjusting the thermostat for short trips, but what about longer ones? Though the basic principle applies, there are a few issues to be aware of first. Here's a quick rundown to keep you on the right track:
Bon Voyage: Setting Your Thermostat for an Extended Vacation
You'd think you can just set your thermostat higher in the summer and lower in the winter, there are a number of considerations you should bear in mind. Your HVAC system doesn't just control your home's interior temperature, it also conditions the air and changes the humidity. In the summer, during an extended vacation, if your home remains too hot and humid for too long, you can actually find damage in terms of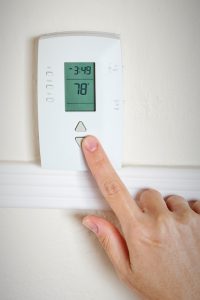 warped wood, loose wallpaper and other issues that will require repairs, often cutting well into or exceeding the expected savings of leaving the air conditioner turned down. Don't forget to close your drapes or blinds to keep your home cooler by reflecting sunlight away from your home.
In the winter, condensation and freezing temperatures are just as problematic. Condensation can cause damage to your home by keeping sensitive areas damp and allowing for unsightly and unhealthy growth of mold and mildew. Temperatures that drop the mercury can freeze your pipes, causing burst pipes, water damage and losses into the tens of thousands. You may also want to consider shutting off your home's main water supply and draining the water left in your pipes. Consider opening cabinet doors under sinks to allow the free movement of hot air underneath the sink area.
So where should you set the thermostat? Aim for 85ºF in the summer and 50ºF in the winter to prevent problems. This should steer you clear of most temperature-related problems. To really take advantage of savings, have a smart thermostat installed that allows you to remotely control your home's temperature, allowing you to increase the summer temperature if it's dry and humidity is less of a concern.
Need help getting your HVAC unit ready for a long summer vacation? Using a reputable service company can go a long way to give you peace of mind when you're far from home. If you need help, please feel free to contact the professionals at Cox Air Conditioning and Heating today.