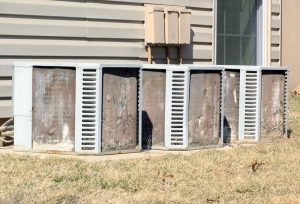 Everyone loves air conditioning! Few feelings beat the relief of coming back to a cool home on a hot day, and in the hot and humid South, your home air conditioning system is essential.
However, air conditioning can also be expensive and require regular maintenance. Especially in humid areas, outdoor air conditioning units may wear out and corrode faster. Regular maintenance of air conditioning systems will make them last longer, run more efficiently and may even save you money.
Here's important information about AC unit corrosion.
Why Does Corrosion Occur?
There are two main types of corrosion: pitting corrosion and formicary corrosion. Exposure to fluoride and chloride will wear down and thin the coils on your AC system. Fluoride and chloride linger in the air in humid coastal areas. A pleasant salty breeze might be refreshing, but it can be bad for your air conditioning system. If you live in a humid coastal area like Florida, you are at greater risk for AC unit corrosion.
Formicary corrosion can hurt the metal parts of your air conditioning systems if not cleaned properly. Many cleaning products can damage can wear down the protective coatings on metal parts and hurt your system. This is why you must be very careful about trying to clean the system yourself. It may be best to work with an HVAC professional who can help protect your outdoor AC unit.
How Does AC Unit Corrosion Affect Me?
Corrosion can be an expensive problem. If not dealt with it can require coil replacement or even and entire system replacement. Experts recommend scheduled HVAC maintenance to protect against corrosion. If you live in a hot coastal area, you may want to consider purchasing an Air Conditioning Maintenance Service Agreement because of the higher risk to your system. Salty air in places like Florida can rust condenser fins, terminal blocks, wire harnesses and other metal contact points faster, and regularly scheduled maintenance can help alleviate these problems.
What Should I Do About It?
Regular maintenance is the best way to prolong the life of your air conditioner. Experts can apply various protective coatings to increase the life of your system and prevent corrosion. Furthermore, regular maintenance on your system is a must to keep it working at peak efficiency and to avoid costly repairs.
In Florida, the Gulf and other coastal areas, systems are at greater risk. At Cox Heating & Air Conditioning, we provide the professional service and advice you need to maintain your AC system, protect your home and save money. Contact us today to schedule an inspection or maintenance on your AC system.