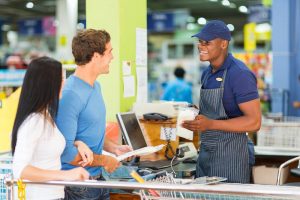 You don't always think about your air filter. Air filters are often out of sight, out of mind. But they are very important to your home, your air quality and the health of your HVAC system. Information about what air filters are and what they do for your home can help you choose the best air filter for your HVAC system.
What Does an Air Filter Do?
Your HVAC air filter prevents dust and other particles from being pumped into your home's air through your air conditioning or heating system. A good air filter will help keep your air clean and improve your home's internal air quality. A number of factors contribute to indoor air quality, such as the health of your HVAC system, the number of pets in your home, level of dust and weather conditions in your area. The right filter can save you money on electricity and improve the air quality in your home by removing potentially harmful particles.
Different Types of Air Filters
According to the U. S. Environmental Protection Agency (EPA), there are four main types of filters, each of which offers different costs and benefits. The first is the fiberglass filter, which is layered to filter air and held together in a metal frame. Polyester and pleated filters tend to have better dust-blocking capabilities than their fiberglass counterparts. High-efficiency particulate arrestance (HEPA) filters take out 99.7 percent of all particles. Washable filters are less common but don't have to be replaced.
Choosing the Right Filter
There are many factors that will help determine the best air filter for your system, such as the age of your HVAC system, if you have pets, how many people live in your home and if you have allergy sufferers at home. The type of filter you need also depends on the size of your home, the length of time the HVAC system has been in use and the weather in your area. A professional can tell you which filters are best suited to your needs by taking a look at the condition of your HVAC system. Generally, if the filter is damp, dusty or moldy, this likely signals a need for replacement. Frequently worn out filters could also mean that your current filter is not working well, and you may need to upgrade or switch to a different filter type.
Filter Maintenance and Replacement
Experts recommend checking air filters once a month. You should also have your filters looked at by a professional twice a year or more frequently if you use your system a lot. The wrong filter will be less effective, and it will need to be replaced more frequently. The wrong filter can also damage other parts of your system, such as heating coils and fans. Properly maintaining filters will help keep your system running cleanly and increase the life of the system and its parts.
Why You Should Upgrade Filters
Hire a professional to ensure you have the best filter for your needs. The correct filter will not need to be replaced as often, and it will increase the life of your system by helping to protect its vital parts. Poor indoor air quality can be a big environmental and health risk for your family. Unfiltered air can compound problems with allergies and respiratory illness. Installing better filters will reduce pollutants in your air and may save you money on electric bills through increased energy efficiency.
At Cox Heating & Air Conditioning, we have a professional, well-trained staff who will simplify the process and give you the high-quality service and attention you deserve. Contact our team of skilled technicians today so we can help ensure your home is safe and comfortable.