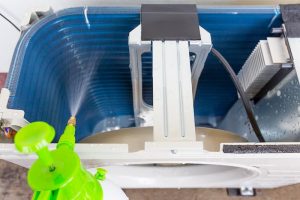 Cleaner air is better for you, your family and the environment. This is especially true for the air circulating in your home. What do you think of your home's air quality? Unfortunately, the air in your home may not be as clean as you think it is–or as clean as it could be.
That's why it's important to regularly clean your HVAC system. If you fail to remove dirt and dust from ducts, you could be putting your family's health at risk. Read on to explore the many benefits of a clean HVAC system.
Dirty HVAC System Culprits
You're probably thinking that a little dust and dirt never hurt anybody. While that may be true, your HVAC system may have a little more than dust and dirt filtering through your home's air. For example, pet hair is a major culprit when it comes to infiltrating your HVAC system. Cigar or cigarette smoke can also have a lasting effects. Water, new renovations and general damage to your HVAC system can also affect the quality of your home's air.
The Downside of Dirt
Now that you know what's potentially moving in and out of your ducts, it's time to understand how they can affect you, your family and your home. According to the U.S. Environmental Protection Agency (EPA), contaminants in your HVAC system are filtered five to seven times daily. Further, when the dust, dirt and other contaminants are not moving throughout your home, they can build up in your air system. Thus, whatever's in the ducts can linger for a long time and lead to health issues, such as respiratory problems, autoimmune disorders and environmental allergies.
The Components of an Air Duct Cleaning
How can you achieve a clean HVAC system? A typical HVAC cleaning will involve opening, examining and cleaning of all air ducts and vents in your home. The cleaners look for possible signs of asbestos or any other potentially hazardous material. There will also be a full vacuum cleaning and brushing of each duct to remove dust and other dangerous particles. Finally, cleaners will reseal and re-insulate any air pockets in your system. Purchasing an HVAC Maintenance Plan can help ensure your HVAC system has regular and routine maintenance and that the system is clean and running efficiently.
Energy Savings
Aside from health concerns, another great reason to have your HVAC system cleaned is the resulting energy savings. Especially during those hot Florida summer months, it's great to save extra cash on your cooling bill. According to the U.S. Department of Energy, around 25 to 40 percent of cooling and heating is wasted. This is can be due to contaminants that infiltrate your system. That means a clean HVAC system can actually translate into some serious cost savings.
Whether you're concerned about your family's health or your system is simply due for a routine cleaning, removing potential contamination from your air ducts is always a good idea. Contact the knowledgeable staff at Cox Heating & Air Conditioning today, and let us help improve the quality of air inside your home.