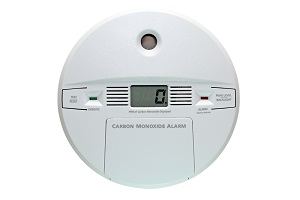 You take such care to practice crisis prevention in your home. You unplug appliances when you leave the home, fitted child safety covers over all knobs and latches, and change the batteries every six months in your top-of-the-line smoke detectors. You can smell fire, react to a crying child, and the whole neighborhood will hear if your smoke detectors wail; but there is another predator that is odorless, tasteless, and colorless. Install carbon monoxide detectors in your home and protect your family from this deadly gas.
People are physical beings with five very useful senses. As such, they have a mindset that if they can't see, touch, taste, hear, or smell something, it doesn't exist. In the case of carbon monoxide, not only does it exist, it has the power to kill. When inhaled over time, flu-like symptoms develop. But left untreated, irreparable damage can be done to the brain and lungs. In the saddest cases, suffocation causes death.
What Is Carbon Monoxide?
Carbon monoxide, the gas known as the "silent killer," is a residual product created when natural fuels aren't fully consumed. Whether it's wood, gasoline, coal, propane, heating oil, or natural gas, when they don't fully burn, the byproduct is carbon monoxide. When we breathe in this noxious gas, our bodies react. Carbon monoxide poisoning is the number one cause of death by accidental poisoning in the United States, killing nearly 500 people a year and sending another 15,000 to the emergency room for treatment.
Regardless of where you live, your home employs at least a few of these products to keep you comfortable. Sadly, when a machine, like a water heater, malfunctions over time, it may be too late to take saving action.
How Will I Know It's in My House?
Detecting carbon monoxide requires a specialized detector separate from your smoke alarms. CO can be present in your home without an active fire. There are a few types of systems available on the current market.
What Is the Right Detector for Me?
This is a gel-based detector connected to a sensor. When carbon monoxide is present, the gel absorbs it, causing a chain reaction which changes the color of the gel. The color change triggers the safety alarm.
Metal Oxide Semiconductor
This is a more technological reaction. A small chip is embedded in the detector that controls the amount of electricity flowing through the device. When carbon monoxide is detected, the electrical conductivity shifts, triggering the safety alarm.
This blend of electric and chemical science works together to sense carbon monoxide in your home. When the electrodes submerged in a chemical solution begin to increase their momentum, it triggers the safety alarm.
Before purchasing a carbon monoxide detector, do your research. Check with your state and see if they require a certain type of unit. Speak with your local fire marshal and see what they recommend based on your location. Choose the right fit for your home and install them. Place one on each floor, with particular attention to placement outside bedrooms. This simple action can save your family's life.