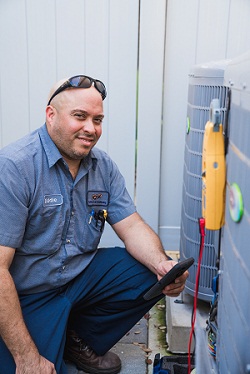 Since the turn of the 20th century, we've come to expect our homes, offices, and businesses to maintain a regulated, comfortable temperature. We're spoiled by cool air conditioners on a humid summer day and the blast of heat that greets us when we open the door on a frigid winter evening.
When Willis Carrier, a 25-year-old engineer, invented the first air conditioner in 1902, he could never have dreamed it would become a standard nationwide accessory.
It can often feel that your heat, ventilation, and air coolant systems come on, as if by magic. Yet, the reality is that each of these units is a complex maze of wires, tubes, and coils, not to mention the temperature-resistant fluids required to keep the system running smoothly.
HVAC technicians are professionally trained on each module, allowing them to inspect, assess, and repair any issues. There are many reasons why you should never attempt to self-diagnose or repair your systems when they aren't working properly.
Safety
Safety should always be your first priority. Heating, ventilation, and coolant systems can be dangerous if safety steps aren't followed. A trained, certified HVAC technician knows how to safely interact with the wiring and plumbing, both to protect himself and prevent causing irrevocable damage to your unit.
Knowledge Base
A fully trained HVAC technician completes two full years of education and hands-on training. The curriculum is rigorous, giving them opportunities to interact with a myriad of system failures, then practice solutions. Chances are that the person who shows up at your door has seen your HVAC issue before and can fix it efficiently.
Finances
If your system is under warranty, you run the risk of invalidating the coverage if anyone other than a certified technician addresses the issue. Moreover, trained HVAC staff know how to diagnose starting with the most commonly seen problems. Often, they're quick to spot, easy to resolve, and, best of all, not that expensive. Companies report that many home or business owners who try self-repair as a way to save money actually end up causing major damage to the system. In the end, they end up spending copious amounts to repair, or replace, the unit.
Specialized Tools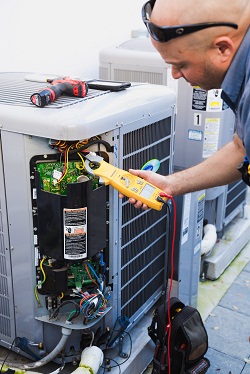 A Philips-head screwdriver and a hammer won't fix what's wrong with your system. HVAC technicians arrive on-scene with the specialized tools necessary to accurately assess the situation. When layman's tools are used on complicated heating or cooling systems, they can damage the connecting devices, causing even more issues.
Continuing Education
To maintain current certification, HVAC technicians must stay up-to-date on the most recent findings in the industry and renew their license annually.
Recordkeeping
When you hire someone from a reputable company they keep track of your system issues, complete routine maintenance on time, and "know" your system. This is especially useful when you call to report an issue. They have no need to duplicate past tests and can diagnose the new problem quickly.
If you're experiencing malfunctions with your heating, ventilation, or coolant systems, don't attempt to fix it yourself. Call a trained, certified, and experienced HVAC technician.