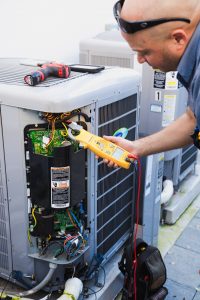 Summer is officially here. If you're like most homeowners, hot weather means using the air conditioner more and getting more expensive energy bills. However, you're not powerless to the whims of the electric company; there are steps you can take to make your AC unit more energy-efficient. Use the tips below to get started.
Clear the Vents
Vents that are dirty will not work as well as clean ones. Vacuum around indoor vents to keep dust and debris away from them and maintain a steady airflow through the system. You should also move any furniture, curtains, toys, and other objects away from the vents, so they don't block the airflow.
Buy a Programmable Thermostat
This is a simple way you can boost your AC unit's efficiency. Purchase a thermostat that allows you to set the temperature on a timer. Set the thermostat to a comfortable temperature and don't adjust unless necessary. A few degrees can make all the difference on your energy bill. Set the temperature to be higher when you're not home or when you're asleep. By raising the temperature in your home for eight or more hours every day, you can cut your energy costs by up to 10 percent.
Use Ceiling Fans
Your air conditioner isn't the only tool that can help to keep your house cool. Ceiling fans are inexpensive and provide a cost-effective cooling solution. They take the cold air that's already in the room and create a wind-chill effect, making the area feel cooler. You can raise your thermostat four degrees without noticing a difference in the temperature. This means more money in your pocket throughout the summer.
Update the Landscaping
Though natural light can be great, it does have its downsides. Direct sunlight can cause your home to heat up, meaning your AC will need to work harder tre shade around your property. This will help to moderate the temperature in the home and make your air conditioning unit more efficient. If you don't want to change your landscaping, you can still make some changes outdoors to improve the efficiency of your AC. Clean up around the outdoor unit. Get rid of fallen leaves and other debris that has landed on the unit. Trim overgrown grass and greenery around the unit. Clear a three-foot radius around the unit so there are no obstructions and the air can smoothly flow in and out.
Perform Regular HVAC Maintenance
Perhaps the best way to ensure your AC unit is functioning efficiently is by hiring a professional to perform maintenance. You should schedule a tune-up once a year to ensure it is working as it should. These visits are usually quick and allow a professional to check out your cooling system, recalibrate it, change the air filter, look for any issues, and replace worn out parts. By doing some preventative maintenance early on, you can ensure that you won't encounter a larger problem down the line and your air conditioner will work properly throughout the summer.