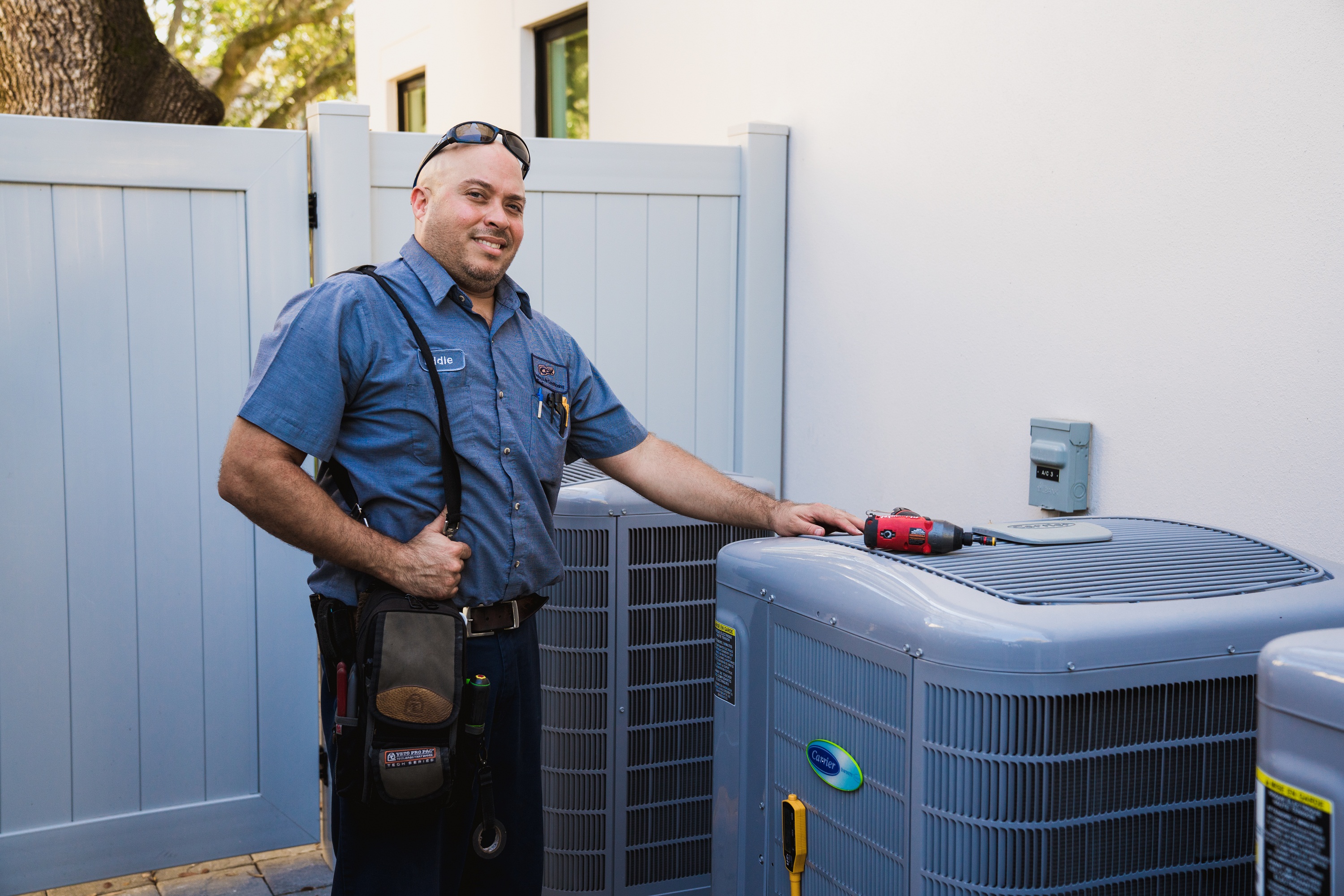 Shopping for a new HVAC unit can seem like a daunting task, but it doesn't have to be. How do you know what AC unit is right for your home and family? Check out this guide to HVAC shopping.
HVAC Size
When it comes to selecting the right HVAC unit, remember this rule of thumb: bigger isn't always better. HVAC units are classified by a unit of measurement called a 'ton.' In the heating and cooling industry, a ton is equal to the ability to cool 12,000 BTUs (British Thermal Units) in one hour. One BTU is the amount of energy needed to change the temperature of a pound of water by one degree. A large HVAC unit will cool your home quickly and effectively, but they also draw more energy and cycle on and off more frequently. This will cause excessive wear and tear on your unit and increase your monthly energy costs. A unit that's too small will struggle to keep up with your heating and cooling needs. The unit is more likely to overheat and malfunction because it's continuously running. To determine the perfect size for your home, first, you need to determine your total living space. Take the total square footage of your home and multiply it by 30. Divide that answer by 12,000. If you live in the Southwest, where arid climates require more powerful units, round your answer to the nearest half ton. For homes outside of the Southwest, subtract 1 from your answer and round to the nearest half ton. This is the approximate size you need for your new HVAC unit.
SEER Ratings
As you shop for HVAC units, you'll probably come across this acronym. SEER stands for seasonal energy efficiency ratio. The SEER rating system is an initiative of the Department of Energy's Energy Star Program. A higher SEER rating means that the unit is more energy efficient. As of 2015, the standard SEER rating is 15, but you can find highly efficient models with ratings up to 25. A higher rating usually means a higher price tag per unit, but you'll be saving more money in the long run on monthly energy costs. If you don't want to spend a small fortune on the latest models, consider a unit within the 18-22 range. These units will still help reduce your monthly energy bills, and the savings will end up paying for the system within a few years.
Manufacturer Savings
As you narrow down your list of HVAC units, you'll probably recognize some of the major name brands like Carrier and Bryant. In truth, most of the units on the market today are all manufactured by the same company: United Technologies. You'll spend more money on a well-known name brand unit than you would on a lesser known brand made by the same company. The primary differences from one model to the next is the customer service and warranties offered by different name brands. You can save a few dollars and still have peace of mine with an off-brand HVAC unit knowing that they all have the same internal parts.