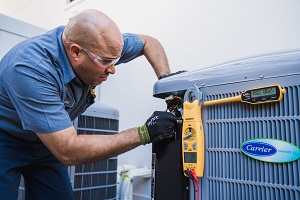 How often do you have professional HVAC maintenance? If you're like most people, you probably can't remember the last time you had this service done. However, heating and cooling companies recommend yearly maintenance to improve your HVAC unit's efficiency and decrease energy costs. Keep reading to learn more about how yearly maintenance keeps your costs in check.
Fewer Repairs
Do you feel like something is always going wrong with your heater or air conditioner? If you're constantly calling for repair service, and your HVAC system is older than 15 years old, it could be time to consider replacement. But, if you have a newer system and are having regular problems, it could be a maintenance issue. When you have a technician check your unit once every year, they make adjustments and pick up on small issues and fix them before they turn into expensive repairs.
Lower Energy Bills
Have you noticed your energy bill starting to soar? Before you start turning messing with the thermostat, contact your local heating and air-conditioning service company for a tune-up. When HVAC units don't get regular tune-ups, they gather dust and debris and they struggle to heat or cool as well as they used to. A dirty, poorly maintained furnace or air conditioner is going to work harder to achieve the same level of performance you expect from it. What does this mean for your energy bills? You guessed it. It means you have higher electric or gas bills. Spending a small amount of money on yearly HVAC maintenance can save you a significant amount of money on your utility bills.
Fewer Doctor Visits
When you think about the cost-effective benefits of HVAC maintenance, you probably don't think about doctor visits. Why would you? How are these two things even remotely related? Well, consider this question: Do people in your household suffer from allergies or respiratory illnesses? If so, how much money do you spend each year on medication for treatment or symptom relief?
HVAC systems that aren't maintained release allergens, dirt, dander, and other debris into the air. This is the air you breathe in your home every single day. These particles don't just stay in the air or settle on your furniture, walls, and floors. These particles get inside your body and make you feel miserable, especially if you're prone to allergies. Having your HVAC service maintained yearly or even twice a year helps you feel better and might even reduce out-of-pocket medical costs.
Are you ready to start saving money on heating and cooling costs and having fewer unexpected HVAC problems? Then why not sign up for a yearly maintenance program today? These programs aren't expensive and go a long way toward helping you get many years of uninterrupted usage out of your HVAC system. It's one of the best ways to save money on home heating and cooling costs.
To get started, find a trusted HVAC company near you that offers yearly HVAC tune-ups. Contact Cox Air today to learn more about HVAC maintenance services.