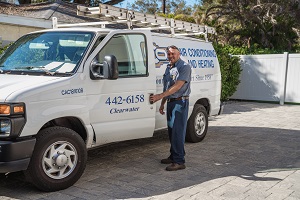 Carbon monoxide (CO) is a deadly gas that gives no indication of its presence in your home. That's why it's important for homeowners to have carbon monoxide detectors and to do what they can to prevent this gas from building up in their homes. Learning more about this so-called silent killer will help keep your family safe.
What Is Carbon Monoxide?
Did you know that carbon monoxide is the leading cause of poisoning death in the U.S.? As scary as this sounds, it's something that is highly preventable when people have the correct knowledge and take proper care to maintain appliances and other systems that use natural gas. Carbon monoxide is the buildup up gases that form a lethal combination when there is no way for them to escape such as through a cracked window or door.
Causes of Carbon Monoxide
What causes this deadly scenario? In your home there are numerous sources that contribute to CO buildup. Just having these sources in your home doesn't mean you'll ever have a problem, but it does mean you're at risk. Here is a list of some of the most common CO sources:
Appliances
Portable generators
Tools and other equipment
Vehicles
Boats
Carbon monoxide builds to unsafe level when these sources use gas and are not vented properly. For example, a gas fireplace that doesn't have a good venting system has the potential to develop a buildup of CO. Portable generators or cars run in a closed space without any venting will also lead to a deadly buildup of CO.
Another reason carbon monoxide builds up is when people don't maintain their appliances or other items powered by natural gas. Do you have a gas-powered furnace or water heater? When was the last time you had these fixtures cleaned professionally? If it's been a while, you could be at a higher risk of having a CO problem in your home.
Signs of Carbon Monoxide Poisoning
One of the scariest aspects of carbon monoxide build up in the home is without detection equipment it can go undetected. Often the symptoms of CO poisoning mimic other illnesses like the flu or general tiredness. If you have gas-powered appliances or other sources in your home, act quickly if you or members of your household complain of any of the following symptoms out of the blue:
Nausea
Headache
Tiredness
Chest tightness
Vision changes
Confusion
Changes in behavior
As previously mentioned, all of these symptoms mimic other conditions. However, if more than one person in your household is experiencing these symptoms and you feel better when leaving the home, it's likely you're dealing with a CO leak.
Preventing Carbon Monoxide
The best way to prevent this scenario from occurring in your home is to regularly monitor carbon monoxide levels and have your gas-powered sources serviced routinely. Also, install carbon monoxide detectors on every level of the house and change the batteries as often as you do with your smoke alarms. Taking these precautions will prevent you and your family from becoming a statistic. If you have questions about carbon monoxide and want to schedule routine service, contact Cox Air today.