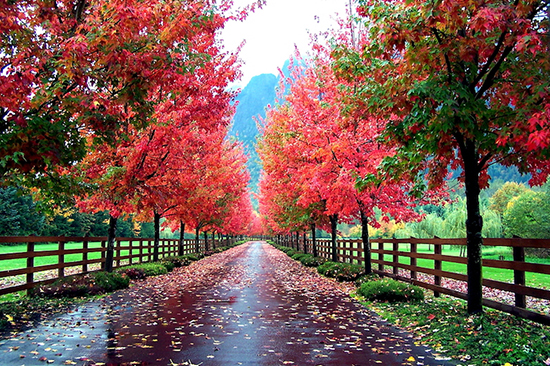 After a long, hot and humid summer, it's good to head to cooler places on a fall getaway. If you're thinking of heading north to see the fall color, you might not have to go as far as you think to see spectacular fall displays of red, gold, bronze and copper. Within just a few hours' driving distance from central Florida, you can view beautiful fall foliage.
Torreya State Park
Located in the panhandle and on the southern edge of the Appalachian mountain range, Torreya State Park is one of the best places in Florida to see the seasonal color change. Torreya's high hills and mountains sit 50 to 262 feet above sea level, providing climactic conditions rarely seen elsewhere in the state. As well as the gold, orange and red of elms, sweet gum, hickory and maple, you can see fall wildflowers in shades of yellow, blue and purple. View the fall display from the bluff overlooking the Apalachicola River, where you can see the contrast with the surrounding evergreen landscape.
Three Rivers State Park
Pine and mixed hardwood trees provide a home to white-tailed deer, fox squirrels and gray foxes in Three Rivers State Park, and in fall the hardwood leaves take on autumn shades. The Chattahoochee and Flint rivers merge to form Lake Seminole in this scenic, peaceful area. Hiking and fishing are the main activities visitors on a fall getaway enjoy among the attractive foliage.
F.D. Roosevelt State Park
The largest state park in Georgia, F.D. Roosevelt State Park, features a burst of golden fall color that cloaks its mountains. The park is named for its association with the former president. He would picnic at Dowdell's Knob where, as well as a life-size statue of the president, you can view the fall foliage of the park's hardwood trees. Alternatively, bike or hike more than 40 miles of paths and trails and experience the golden hues up close.
Okefenokee National Wildlife Refuge
Though it isn't quite the mountains, you can see plenty of fall color at Okefenokee National Wildlife Refuge. Black gum, cypress and maple trees turn yellow, rusty-orange and red when temperatures begin to drop. What's more, red huckleberries and cassine holly berries appear and yellow sunflowers bloom. To see the colors at their best, take a canoe or motorboat into the swamp. Fall is a great time to visit the Okefenokee because it's one of the quietest times in terms of visitors, so take advantage.
Programming Your Air Conditioning While You're Away
Escaping on a fall getaway gives your air conditioning a rest after it's worked hard all summer. You might not want to turn it off entirely, however. A hot spell while you're away could result in peeling wallpaper and warped wood, while a burst of cool humidity could mean dampness and even mold. Set a programmable thermostat to a moderate temperature to help prevent nasty surprises when you return from your trip. Even better, install a smart thermostat, which receives local weather reports and adjusts the setting appropriately to keep your home's interior dry and cool.
Fall colors are one of nature's most beautiful displays, and worth taking a little time off to go and see. When your air conditioning system has a programmable or smart thermostat, you can have peace of mind knowing that your home is at the optimum temperature while you're away. Contact Cox Heating & Air Conditioning for more advice and information.