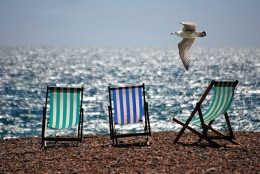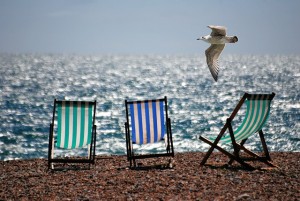 There are always a million details to tend to before you leave on vacation, but don't overlook one that could save you a headache upon your return: making sure your HVAC system is properly set and cared for before you leave.
After all, your HVAC system is one of the biggest investments you've made in your home. Unfortunately, it's also the one that can cause you the most grief if it's not well cared for. And, who wants to come home from a vacation confronted with a furnace breakdown or other HVAC system mishap? Heed the following steps and you'll enjoy your vacation all the more:
Schedule your annual HVAC checkup if you haven't already. Now's the time to get your HVAC system cleaned and to expose and repair any small problems that may be lurking there. The peace of mind you'll enjoy while you're on vacation, knowing that your system is in tiptop shape, will be well worth it.
Set the the thermostat to about 82 degrees in the summer months and about 65 degrees during the winter for the duration of your vacation. If you have a programmable thermostat that allows it, program the settings to return your home to a comfortable temperature on the day you plan to return. A WiFi thermostat can make the programming process even easier when you're away from home.
Turn the fan to "on" or "run" to keep the flow of air consistent in your home.
Leave the name and phone number of your favorite HVAC expert with a neighbor, just in case there's a problem that can't wait until you return. This precaution has less to do with the reliability of your HVAC system than the unpredictability of the Florida weather. Think in terms of rain and flooding, which can also wreak havoc on your system.
Offering our customers peace of mind while they're on vacation is one of our greatest rewards at Cox Air Conditioning & Heating. Call us for an HVAC maintenance check and we'll ensure that you can rest truly easy on your vacation.
Your heating and air conditioning system is just like your car. It has a lot of moving parts and it runs for hundreds of hours per year. With this type of use, it's simply impossible to completely prevent all problems. However, just like with your car, regular maintenance can keep your HVAC system in top shape for as long as possible. Here are five reasons you don't want to be without a HVAC maintenance service agreement:
Scheduling – One of the biggest benefits of a HVAC maintenance service agreement is that work is scheduled in advance. With advance scheduling, you can select a date for routine maintenance when the kids will be out of school or you'll be home from work to avoid burning vacation days. You'll also likely receive priority scheduling if you ever do need a sudden repair.
Routine checkups – Cleaning, checkups and basic maintenance are included in your plan. If you don't have a plan, you probably aren't having your HVAC system regularly checked. This is a mistake, since small problems can make themselves more expensive over time by putting a strain on the rest of your system.
Discounts – Because you sign up for service in advance, you receive a discounted rate on each checkup. In addition, if repairs that aren't covered by the agreement are needed, there's often a discount for plan members.
Service you can trust – One of the hardest parts about choosing an HVAC contractor is knowing whether you can trust them. Even if they have great reviews, you may feel they have an incentive to overcharge you or perform unneeded work. When you have a service agreement, you know your long-term satisfaction is the contractor's first priority.
Lower utility bills – Small problems such as dirty air filters or parts needing replacement can increase your utility bills by several percent. When you're paying hundreds or thousands of dollars a year in cooling and heating costs, these savings are not insignificant.
For more information on a HVAC maintenance service agreement, contact Cox Air Conditioning & Heating today.
By now, you probably already know that having an energy efficient HVAC system can provide huge savings on your monthly energy bill. One lesser known source of energy loss and potential savings is your ductwork. Often forgotten because it runs out of sight and out of mind, the ductwork running through your ceilings and walls is actually one of the biggest sources of heat loss that can increase your energy bill.
Potential Duct Problems
Because ducts are made to be flexible, they can easily develop problems over time. The biggest source of leaks is where sections of ducts join or split off toward different areas of your home. The seals at these locations frequently wear out over time and can send air flowing into your attic instead of your living spaces. In rare cases, the original contractor may not have even installed the ducts properly and left them unconnected altogether.
Leaks can also occur in the middle of duct sections. Typically, this occurs when someone storing items or performing other work in the attic punctures a duct without realizing what they've done. Ducts bent around corners or placed against another object could also puncture over time from the vibrations of passing air.
Checking Ducts
To keep your energy bill low, periodically check your ducts. In the areas of your attic where there is good crawl space, you can visually inspect your ductwork. While the system is running, carry a piece of paper close to the accessible ducts and look to see if it is blown away from or pulled toward the ducts to detect less obvious leaks.
If you do detect leaks, your energy bill is unexpectedly rising, or a room isn't heating or cooling as expected, it's time to call in the pros. While you can detect and repair some problems yourself, it's likely that there are additional leaks in the areas you can't reach. A HVAC pro will have special tools to measure your airflow and be sure your ducts are 100 percent airtight.
For ductwork improvements in the St. Petersburg and Clearwater area, contact Cox Air Conditioning & Heating today.
One of the sources of human joy, our beloved four-legged friends, can sometimes be the cause of ill-health through pet allergies. Although allergens affect many people, they can be controlled and virtually eliminated from your home.
What Is Pet Dander?
These are tiny scales of dead skin that animals shed. Dander contains a protein that may cause an allergic reaction in humans. These allergens can be found in the air and, because they're sticky, they also adhere to walls, furniture and floor rugs.
Combating Dander
There are a variety of ways to keep your home as clear as possible from pet dander:
Bathe and brush your pets as often as is practical. Check with your vet as to how frequently you can wash your domestic animals.
Keep pets off furniture. Supply them with their own bedding and train them from a young age where they should sleep.
Wipe down walls and furniture to remove the sticky pet allergens.
Install an air purifier in your home. These devices help to remove dander from the air, reducing the triggers for pet allergies.
Choosing an Air Purifier
Two types of air purifiers are suitable for removing pet dander from the air: mechanical or electronic air cleaners.
Mechanical air purifiers are often fan-driven and work by capturing particles on a mesh filter. These devices come with a minimum efficiency reporting value (MERV), 1 being the least efficient and 20 being the most effective. The U.S. Environmental Protection Agency (EPA) regards air filters with a rating of between 7 and 13 to be efficient enough to remove many allergens from the air.
Electronic or ion-type air purifiers use electrical charges to attract particles from the air. These particles are then deposited onto a collecting plate.
Your HVAC provider will be able to assist you in choosing the most appropriate air purifier for your home and provide you with other suggestions to combat pet allergens. Contact Cox Air Conditioning & Heating for more information. We've proudly served homeowners throughout Clearwater, Tampa, St. Petersburg, Palm Harbor, Trinity and Westchase for more than 55 years.