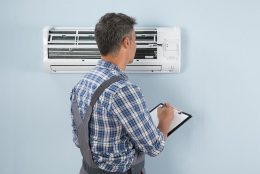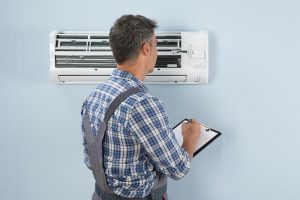 You probably have a long list of tasks to prepare your home for spring and the warm weather months ahead. One top priority? Your HVAC system. As you probably know, an HVAC system in good repair can help you save on maintenance costs and reduce the risk of many health problems for your family.
Here are five great reasons to prepare your HVAC for spring and the sunny summer months ahead.
1. A Healthier Home
Air ducts contaminated with dirt, dust or other materials can cause health problems for people who live in your home. A cleaning after the winter months can clear up any potentially hazardous materials as well as confirm your HVAC system did not suffer any damage during the winter months. If anyone in your home is prone to allergies, it's even more important to schedule a regular cleaning of your HVAC system.
2. Improved Air Quality
Tuning up your HVAC for spring can not only protect your family's health, but it can also improve your home's overall indoor air quality. Having your HVAC serviced will confirm whether there are any problems with filtration, humidification and dehumidification, as well as proper ventilation. It's important to have your indoor air quality tested to make sure your HVAC system has no leaks and that it provides fresh and clean air throughout the year, and now might be the best time to consider installing an indoor air purifying system to ensure high-quality, clean air inside your home year round.
3. Lower Utility Bills
Along with improving your air quality, a spring tune-up for your HVAC system may also result in lower monthly utility bills. Spring HVAC servicing will ensure there's no dust on your indoor coils, breakage or leak in your ducts or layers of dirt on your outside coils. This tune-up can also confirm whether the system is low on refrigerant. Everyone loves saving money on energy bills!
4. Prevent Potential Breakdowns
No one wants to think of their HVAC system breaking down, especially during a hot Florida summer. When you schedule a tune-up, the team can ensure your HVAC system is prepared for the warm season and address any potential problems. Remember, summer heat is rough on your HVAC system, and it's good to be prepared.
5. Extend Your System's Lifespan
Having your HVAC system examined and serviced on a regular basis may extend its lifespan. In turn, that will save you from costly repairs. Routine maintenance can prevent small problems from becoming major headaches.
With the winter months coming to an end and the warm weather of spring upon us, there's no better time to schedule a tune-up for your HVAC system. Whether for health reasons or simply to lower your monthly utility bill, investing in your home's heating and cooling system is always a good idea. Contact the professionals at Cox Heating & Air Conditioning today and let us prepare your HVAC for spring and the long summer ahead.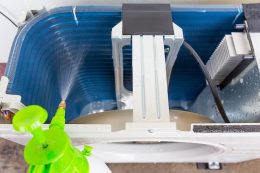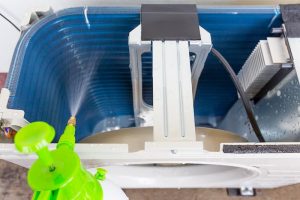 Cleaner air is better for you, your family and the environment. This is especially true for the air circulating in your home. What do you think of your home's air quality? Unfortunately, the air in your home may not be as clean as you think it is–or as clean as it could be.
That's why it's important to regularly clean your HVAC system. If you fail to remove dirt and dust from ducts, you could be putting your family's health at risk. Read on to explore the many benefits of a clean HVAC system.
Dirty HVAC System Culprits
You're probably thinking that a little dust and dirt never hurt anybody. While that may be true, your HVAC system may have a little more than dust and dirt filtering through your home's air. For example, pet hair is a major culprit when it comes to infiltrating your HVAC system. Cigar or cigarette smoke can also have a lasting effects. Water, new renovations and general damage to your HVAC system can also affect the quality of your home's air.
The Downside of Dirt
Now that you know what's potentially moving in and out of your ducts, it's time to understand how they can affect you, your family and your home. According to the U.S. Environmental Protection Agency (EPA), contaminants in your HVAC system are filtered five to seven times daily. Further, when the dust, dirt and other contaminants are not moving throughout your home, they can build up in your air system. Thus, whatever's in the ducts can linger for a long time and lead to health issues, such as respiratory problems, autoimmune disorders and environmental allergies.
The Components of an Air Duct Cleaning
How can you achieve a clean HVAC system? A typical HVAC cleaning will involve opening, examining and cleaning of all air ducts and vents in your home. The cleaners look for possible signs of asbestos or any other potentially hazardous material. There will also be a full vacuum cleaning and brushing of each duct to remove dust and other dangerous particles. Finally, cleaners will reseal and re-insulate any air pockets in your system. Purchasing an HVAC Maintenance Plan can help ensure your HVAC system has regular and routine maintenance and that the system is clean and running efficiently.
Energy Savings
Aside from health concerns, another great reason to have your HVAC system cleaned is the resulting energy savings. Especially during those hot Florida summer months, it's great to save extra cash on your cooling bill. According to the U.S. Department of Energy, around 25 to 40 percent of cooling and heating is wasted. This is can be due to contaminants that infiltrate your system. That means a clean HVAC system can actually translate into some serious cost savings.
Whether you're concerned about your family's health or your system is simply due for a routine cleaning, removing potential contamination from your air ducts is always a good idea. Contact the knowledgeable staff at Cox Heating & Air Conditioning today, and let us help improve the quality of air inside your home.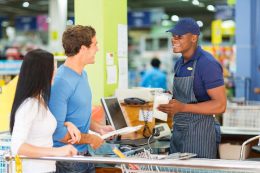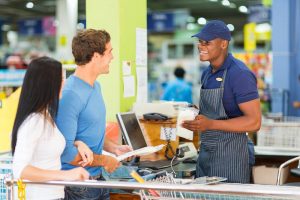 You don't always think about your air filter. Air filters are often out of sight, out of mind. But they are very important to your home, your air quality and the health of your HVAC system. Information about what air filters are and what they do for your home can help you choose the best air filter for your HVAC system.
What Does an Air Filter Do?
Your HVAC air filter prevents dust and other particles from being pumped into your home's air through your air conditioning or heating system. A good air filter will help keep your air clean and improve your home's internal air quality. A number of factors contribute to indoor air quality, such as the health of your HVAC system, the number of pets in your home, level of dust and weather conditions in your area. The right filter can save you money on electricity and improve the air quality in your home by removing potentially harmful particles.
Different Types of Air Filters
According to the U. S. Environmental Protection Agency (EPA), there are four main types of filters, each of which offers different costs and benefits. The first is the fiberglass filter, which is layered to filter air and held together in a metal frame. Polyester and pleated filters tend to have better dust-blocking capabilities than their fiberglass counterparts. High-efficiency particulate arrestance (HEPA) filters take out 99.7 percent of all particles. Washable filters are less common but don't have to be replaced.
Choosing the Right Filter
There are many factors that will help determine the best air filter for your system, such as the age of your HVAC system, if you have pets, how many people live in your home and if you have allergy sufferers at home. The type of filter you need also depends on the size of your home, the length of time the HVAC system has been in use and the weather in your area. A professional can tell you which filters are best suited to your needs by taking a look at the condition of your HVAC system. Generally, if the filter is damp, dusty or moldy, this likely signals a need for replacement. Frequently worn out filters could also mean that your current filter is not working well, and you may need to upgrade or switch to a different filter type.
Filter Maintenance and Replacement
Experts recommend checking air filters once a month. You should also have your filters looked at by a professional twice a year or more frequently if you use your system a lot. The wrong filter will be less effective, and it will need to be replaced more frequently. The wrong filter can also damage other parts of your system, such as heating coils and fans. Properly maintaining filters will help keep your system running cleanly and increase the life of the system and its parts.
Why You Should Upgrade Filters
Hire a professional to ensure you have the best filter for your needs. The correct filter will not need to be replaced as often, and it will increase the life of your system by helping to protect its vital parts. Poor indoor air quality can be a big environmental and health risk for your family. Unfiltered air can compound problems with allergies and respiratory illness. Installing better filters will reduce pollutants in your air and may save you money on electric bills through increased energy efficiency.
At Cox Heating & Air Conditioning, we have a professional, well-trained staff who will simplify the process and give you the high-quality service and attention you deserve. Contact our team of skilled technicians today so we can help ensure your home is safe and comfortable.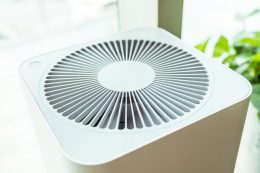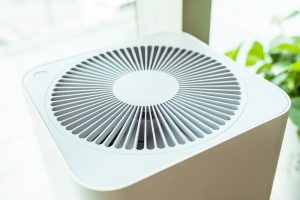 We hear a lot about the quality of our outdoor air. However, it's also important to prioritize indoor air quality. After all, whether you're eating, sleeping or relaxing on the couch with a good book, you spend a great deal of time inside your home. The good news? A whole house air purifier system can help ensure your indoor air is as clean as possible, so you and your family can breathe easy.
Here are five key benefits of installing an air purifying system.
1. Improved Health
Poor indoor air quality can contribute to a whole host of uncomfortable and even serious health issues. You may notice headaches, fatigue and dry, irritated eyes, nose, throat and skin. Children, seniors and people with allergies or asthma are particularly vulnerable. A whole house air purifier can drastically help by trapping pollutants such as smoke, pollen, fungus, mold spores, viruses, bacteria and animal dander. Many systems can trap and kill 95 percent of pathogens.
2. Excellent Odor Control
No matter how frequently homeowners vacuum, mop and wipe down surfaces, there's no doubt that houses tend to harbor various odors. Perhaps a friend or family member smokes, or maybe you notice lingering pet odors. Even strong cooking smells (such as onions, bacon or fish) can become annoying over time. Air fresheners only mask the problem, but a whole house air purifier will actually remove these odors so you can enjoy fresh and clean air.
3. A Longer-Lasting HVAC System
Your heating and cooling system won't last forever. However, in an ideal situation, you'd like yours to last as long as possible. Fortunately, whole house air purifiers will actually prolong the life of your HVAC system. Because purifiers reduce dust, dander and other particles in your home's air, your HVAC won't encounter nearly as many of these, so it will stay cleaner, perform more effectively and last longer.
4. Convenience and Simplicity
One major benefit of a whole house air purifier is its simplicity. Rather than adding portable air filters that can only clean the air in a room or two at one time, a whole house system can tackle your entire home. With fewer units to purchase and fewer filters to change, a whole home unit is a convenient (and cost-effective) choice.
5. Quiet and Discreet
Last (but certainly not least) is the fact that whole house air purifying systems are surprisingly discreet. While you may envision a large unit whirring away as it cleans and freshens the air in your home, the truth is that you won't see or hear your air purifier; you'll simply enjoy the knowledge that it's working to improve your home's air quality.
Investing in a whole house air purifier is a great way to improve your family's health and comfort. Particularly as the muggy Florida summer approaches, you'll enjoy the peace of mind of knowing your home is a cool and healthy retreat from the hot sun. To learn more about how to improve air quality in your home or schedule a service appointment, contact Cox Heating & Air Conditioning today and let us help meet your indoor air quality needs.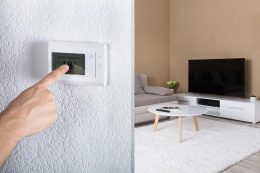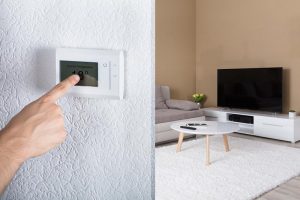 It's a great day when the weather warms up enough to turn off your furnace until next winter. However, it's not as simple as flipping a switch and assuming that's the end of it. There's more to do once you stop using the furnace for the winter.
Here are five crucial tasks that to take care of when turning off your heat this spring.
1. Change Your Filters
Your furnace filter needs to be changed at least once every 90 days. In fact, you may need to change it once a month if someone in your home has allergies, asthma and/or other respiratory problems. Pet owners also need to change their filters more often than the average household. Dirty filters don't only pollute the air inside the home, but they can also cause dust to settle in your ductwork.
2. Check the Thermostat
The thermostat switch should be set to auto rather than on. If you leave it on, your HVAC system's blower will keep running even though the furnace is off. This setting not only wastes energy blowing air that has not been cooled or heated, but it can raise the humidity level in your home as well for the same reasons–the air you are circulating has not been cooled or heated.
3. Turn Off the Gas
If your furnace is an older model that has a standing pilot light, be sure to turn off the gas so that it is not used up by a pilot light that does not really need to be on at this time of the year.
4. Check Your Carbon Monoxide Detectors
Furnaces are one of the leading causes of carbon monoxide poisoning. To avoid the dangers of being exposed to potentially deadly carbon monoxide in your home, it is imperative to have a good carbon monoxide detector installed near your furnace. Because you probably won't take a close look at your furnace again until you turn it on next winter, check your carbon monoxide detector while turning off the heat to make sure it is in good working order.
5. Have the Furnace Serviced
Most heating and cooling companies advise consumers to have the furnace serviced during the fall, right before you turn it on for the winter. However, the truth is that it can actually be hard to get quick service at the same time everyone else is calling local furnace companies for an annual tune-up. Have your system carefully checked and cleaned well in advance to avoid the last-minute rush of finding a contractor who can provide the service you need at a time that is convenient for you.
At Cox Heating & Air Conditioning, we have been in the heating and cooling business for well over half a century. We offer a variety of services and new products for homeowners who want to upgrade to a new furnace or HVAC unit. Contact us today for expert advice and service from one of the company's many NATE-certified technicians.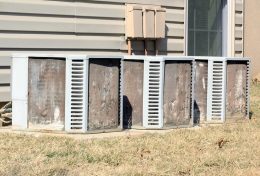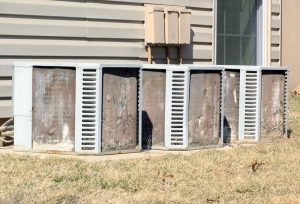 Everyone loves air conditioning! Few feelings beat the relief of coming back to a cool home on a hot day, and in the hot and humid South, your home air conditioning system is essential.
However, air conditioning can also be expensive and require regular maintenance. Especially in humid areas, outdoor air conditioning units may wear out and corrode faster. Regular maintenance of air conditioning systems will make them last longer, run more efficiently and may even save you money.
Here's important information about AC unit corrosion.
Why Does Corrosion Occur?
There are two main types of corrosion: pitting corrosion and formicary corrosion. Exposure to fluoride and chloride will wear down and thin the coils on your AC system. Fluoride and chloride linger in the air in humid coastal areas. A pleasant salty breeze might be refreshing, but it can be bad for your air conditioning system. If you live in a humid coastal area like Florida, you are at greater risk for AC unit corrosion.
Formicary corrosion can hurt the metal parts of your air conditioning systems if not cleaned properly. Many cleaning products can damage can wear down the protective coatings on metal parts and hurt your system. This is why you must be very careful about trying to clean the system yourself. It may be best to work with an HVAC professional who can help protect your outdoor AC unit.
How Does AC Unit Corrosion Affect Me?
Corrosion can be an expensive problem. If not dealt with it can require coil replacement or even and entire system replacement. Experts recommend scheduled HVAC maintenance to protect against corrosion. If you live in a hot coastal area, you may want to consider purchasing an Air Conditioning Maintenance Service Agreement because of the higher risk to your system. Salty air in places like Florida can rust condenser fins, terminal blocks, wire harnesses and other metal contact points faster, and regularly scheduled maintenance can help alleviate these problems.
What Should I Do About It?
Regular maintenance is the best way to prolong the life of your air conditioner. Experts can apply various protective coatings to increase the life of your system and prevent corrosion. Furthermore, regular maintenance on your system is a must to keep it working at peak efficiency and to avoid costly repairs.
In Florida, the Gulf and other coastal areas, systems are at greater risk. At Cox Heating & Air Conditioning, we provide the professional service and advice you need to maintain your AC system, protect your home and save money. Contact us today to schedule an inspection or maintenance on your AC system.