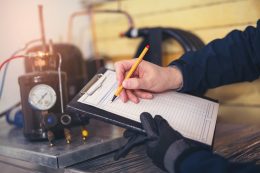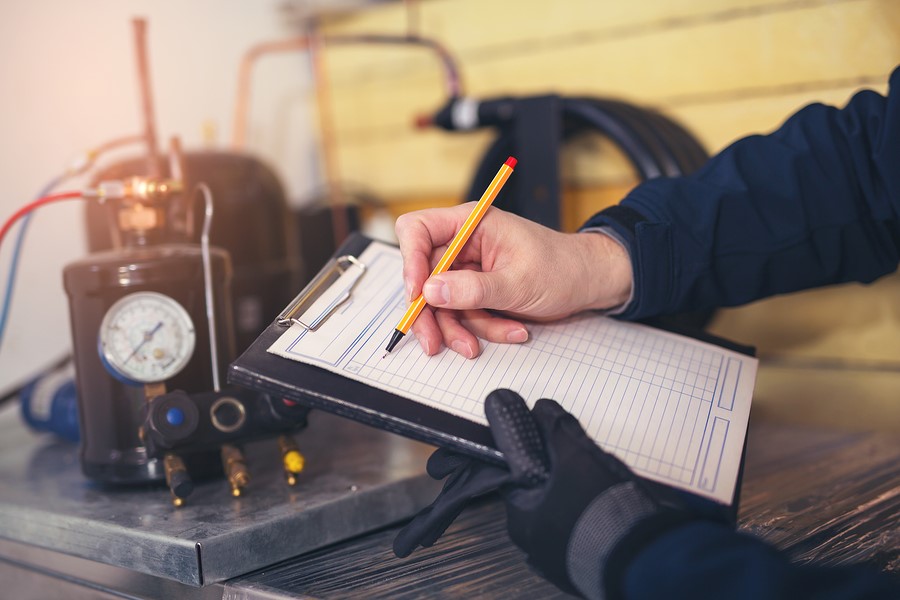 It's easy to take a heating, ventilating and air conditioning system (HVAC) for granted, but it's risky to go without regular maintenance for too long. You wouldn't drive your car for months without getting an oil change, and yet many people don't give a second thought to their HVAC system's maintenance until the unit breaks down.
Having your HVAC system serviced twice a year when the seasons change, once in the spring and again in the fall, is ideal, especially if you have a system that both heats and cools as many Florida residents do.
5 Things a Technician Will Do
A thorough HVAC maintenance involves several steps that not only ensure the system is functioning, but is clean, safe and performing optimally. A technician will examine the whole unit, both outside and indoors, to make sure there are no issues. He or she will:
1. Remove debris surrounding the top and sides of the AC unit or heat pump. Lawn mower clippings and falling leaves can build up around the base of the unit and even get inside it, impeding proper air flow.
2. Flush the condensate line and inspect the drain pan for any buildup of mold or algae, which can cause the system to back up.
3. Check and lubricate the fan motor and blades, plus the electrical system for worn mechanical parts or loose contacts. This includes wiring, connections and moving parts.
4. Inspect and clean the blower assembly and housing for any lint or debris that may have built up since the last service visit.
5. Examine the whole system for safety and possible leaks, and conduct performance testing to make sure the system is operating as well as it should.
Having your system checked regularly also ensures it is operating as efficiently as possible, so you're not wasting money unnecessarily on utility bills.
What You Can Do
Of course, taking care of your HVAC system shouldn't be just a twice-a-year task. You can help keep it in peak condition the rest of the year with a few simple steps. Change the filter at least every three months, more often if you have pets. Don't close more than 20 percent of the vents inside the house or it may put too much strain on the unit. And pay attention: If the system is making strange noises, you may want to get a technician out right away.
If the system isn't working or isn't working as well as you think it should, you can do a little troubleshooting too to make sure it isn't something quite simple. This will also be helpful to the technician if you do need to make a call.
Make It Easy on Yourself
The most worry-free way of dealing with your system is to get a maintenance service agreement with a reliable and respected provider. This not only ensures you'll get your unit serviced on a regular schedule but gives you a trusted partner who is available on short notice if you do detect a problem.
Most maintenance contracts provide regular tune-ups and inspections to your system at a very reasonable cost, and service agreement customers typically get priority scheduling and discounts.
With autumn and winter weather ahead, getting your system in shape to shift from cooling to heating is timely. Don't wait until it's too late.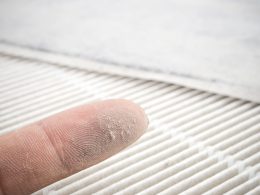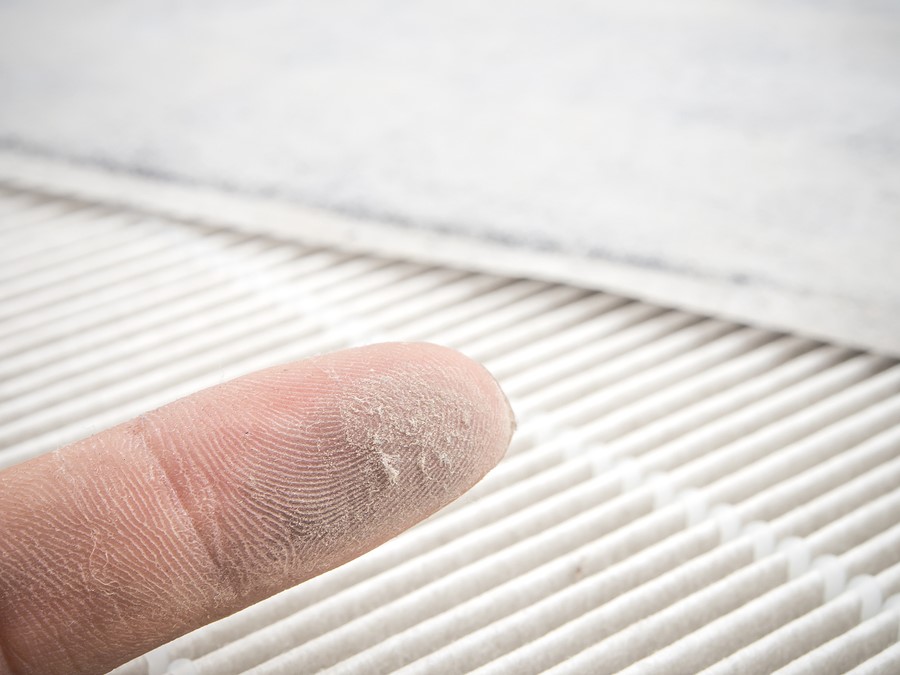 When everything is running smoothly, it's easy to forget about the small things that can make a big difference, like a dirty air filter. Neglecting this one small step can lead to a variety of issues with your HVAC system.
According to the International Association of Certified Home Inspectors (InterNACHI), you should change your air filter at least every three months to avoid having any issues in your home and to keep your system running at maximum efficiency.
Here are some problems that can arise with a dirty air filter:
Poor Air Quality
If your filters are not clean, that means your system is pumping dirty air throughout your home, increasing the amount of dust and allergens you are breathing into your body. This can manifest itself in physical form via headaches, colds, chest pain and other allergic reactions. Cleaning your air filter could make you feel a whole lot better.
Reduced Air Flow
HVAC units are designed to have a certain amount of internal air flow, and a dirty air filter reduces the amount of air that gets to you and the system. If your home doesn't feel as warm or as cool as the temperature settings would suggest, the air filter could be the culprit.
Damage to the System
When filters become clogged with air, it can lead to lead to a pressure drop that doesn't allow any air infiltration at all. In addition, a filter exposed to condensation can become moldy. Both issues can have serious consequences for your HVAC system and could lead to costly repairs or a full replacement of the unit.
Increased Electric Bills
A dirty air filter will cause your system to work harder to get to your desired temperature, which in turn, will cause a spike in power usage. The U.S. Department of Energy says that replacing a dirty, clogged filter with a clean one can lower your air conditioner's energy consumption by 5 percent to 15 percent.
Having clean air filters is one easy step you can take to keep your HVAC system running well. If you have pets or a large family, you may want to consider changing your filters more frequently to ensure your indoor air quality stays high and your utility bills stay lower.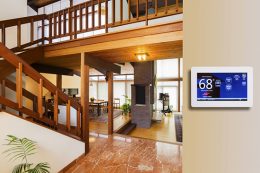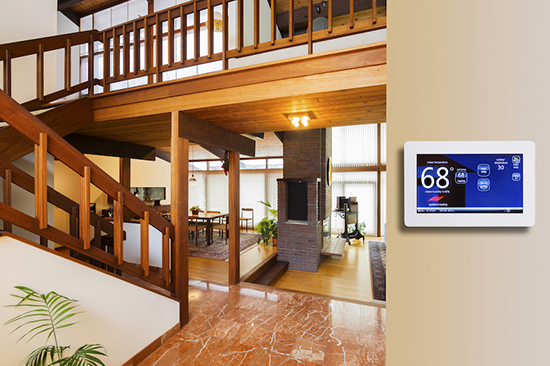 Air conditioning can make hot weather bearable for asthma sufferers. Reduced humidity, lower levels of allergens and easy-to-breathe, cool air indoors are some of the benefits of an efficient AC system for people living with this chronic condition. If you or a member of your family experiences asthma-related symptoms, check that your AC system is working well and your indoor air is the best quality it can be.
Cooling Down
When temperatures rise outdoors, a cool home environment is pleasant and, what's more, the air is easier to breathe. AC systems provide a comfortable home environment that reduces the risk of asthma-related wheezing or coughing. Set your AC unit to around 75 degrees Fahrenheit during the day, and have it serviced regularly so that it's always working efficiently.
Excluding Allergens
Turning on the air conditioning means closing windows and doors to keep the cool air inside. As a result, the amount of pollen, dust and other allergens that would otherwise drift indoors and contaminate the home environment is reduced.
Dehumidifying
Humidity levels often rise along with temperatures, which spells trouble for asthma sufferers. Humid air encourages the growth of dust mites and mold spores that can trigger an attack, but running your air conditioning lowers the moisture level in the indoor air and makes it more difficult for pathogens to thrive.
Filtering
Air conditioning systems can filter allergens that pose a risk to asthma sufferers. However, not all air conditioning systems include the correct air filters. A filter rated 11 to 13 on the MERV (minimum efficiency reporting value) scale removes pet allergens, mold spores and pollen. The filter must fit correctly with no gaps to be effective. Disposable filters work best, but they must be replaced at least every three months.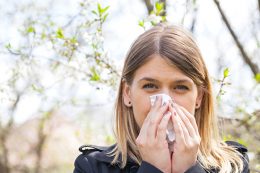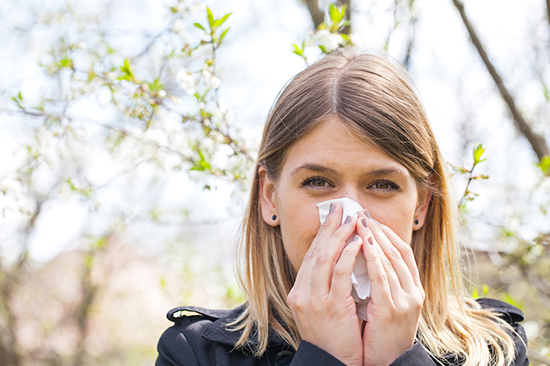 When summer changes to fall, many allergy sufferers find their symptoms worsen, even indoors. At home, air conditioners aren't needed, and people with allergies lose the benefit of cool, low-humidity indoor air. At the same time, allergens like pollen from fall-flowering plants and mold spores can drift in through open windows and doors. Consequently, the change of season can be one of the best times to install an air purifier.
Seasonal Allergy Triggers
The number of allergy-triggering particles in the air can rise when the seasons change. Allergy sufferers are sensitive to a range of allergens like pollen, mold spores, pet dander, dust and dust mites. Ragweed pollen is one of the most common allergy triggers, and the plant is fall-flowering. Another common cause of seasonal allergies is a mold that grows on dead leaves in summer and fall. These allergens enter homes and contaminate indoor air, triggering allergy attacks.
What's more, family habits change along with the seasons. If your dog or cat spends more time indoors, the amount of pet dander rises, and more people at home means more dust and more dust mites.
How Air Purifiers Help Allergy Sufferers
Air purifiers filter the microscopic particles from indoor air that trigger allergy attacks. Air is drawn into the machine and passes through a filter, and the purifier expels the filtered air. A portable air purifier only treats one room, but HVAC air filters treat the whole house. However, only air purifiers fitted with filters that score higher than 14 on the MERV (Minimum Efficiency Reporting Value) scale remove the pollens, mold spores and other allergens that pollute indoor air. To effectively clean the air for your entire household, you need an HVAC system fitted with a HEPA (High Efficiency Particulate Air) filter, which removes 99.97 percent of indoor air particles. These top-quality air filters also remove harmful pathogens like bacteria.
Installing an Air Purifier
A portable air purifier may seem the most convenient solution to allergens in indoor air, but installing an HVAC air filter is the most efficient and effective option. Fitting a HEPA filter into an HVAC system isn't simple, however. To provide the required pressure of air for the filter to work, it must be installed into a separate HEPA system, and that's a job for a professional. After installation, the filter must be changed regularly to maintain the indoor air quality.
Breathing fresh, clean air at home is a pleasure, and for allergy sufferers it's essential if they want to avoid attacks of wheezing, sniffles, coughs and worse. Air purifiers can remove the allergens that appear in indoor air when the seasons change.
If you'd like more information on installing an air purifier in your home, contact Cox Heating and Air Conditioning today and let our professional contractors help you decide which home air filter is best for your needs.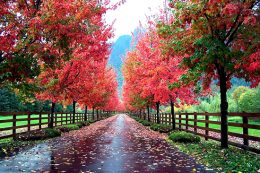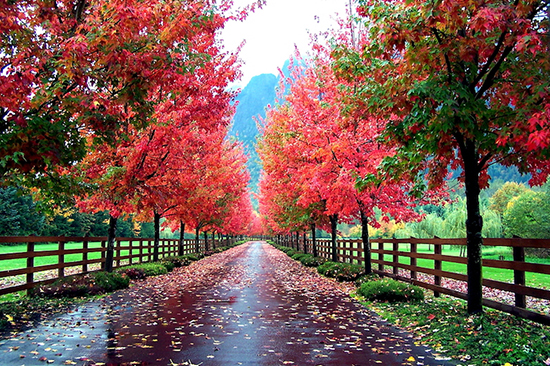 After a long, hot and humid summer, it's good to head to cooler places on a fall getaway. If you're thinking of heading north to see the fall color, you might not have to go as far as you think to see spectacular fall displays of red, gold, bronze and copper. Within just a few hours' driving distance from central Florida, you can view beautiful fall foliage.
Torreya State Park
Located in the panhandle and on the southern edge of the Appalachian mountain range, Torreya State Park is one of the best places in Florida to see the seasonal color change. Torreya's high hills and mountains sit 50 to 262 feet above sea level, providing climactic conditions rarely seen elsewhere in the state. As well as the gold, orange and red of elms, sweet gum, hickory and maple, you can see fall wildflowers in shades of yellow, blue and purple. View the fall display from the bluff overlooking the Apalachicola River, where you can see the contrast with the surrounding evergreen landscape.
Three Rivers State Park
Pine and mixed hardwood trees provide a home to white-tailed deer, fox squirrels and gray foxes in Three Rivers State Park, and in fall the hardwood leaves take on autumn shades. The Chattahoochee and Flint rivers merge to form Lake Seminole in this scenic, peaceful area. Hiking and fishing are the main activities visitors on a fall getaway enjoy among the attractive foliage.
F.D. Roosevelt State Park
The largest state park in Georgia, F.D. Roosevelt State Park, features a burst of golden fall color that cloaks its mountains. The park is named for its association with the former president. He would picnic at Dowdell's Knob where, as well as a life-size statue of the president, you can view the fall foliage of the park's hardwood trees. Alternatively, bike or hike more than 40 miles of paths and trails and experience the golden hues up close.
Okefenokee National Wildlife Refuge
Though it isn't quite the mountains, you can see plenty of fall color at Okefenokee National Wildlife Refuge. Black gum, cypress and maple trees turn yellow, rusty-orange and red when temperatures begin to drop. What's more, red huckleberries and cassine holly berries appear and yellow sunflowers bloom. To see the colors at their best, take a canoe or motorboat into the swamp. Fall is a great time to visit the Okefenokee because it's one of the quietest times in terms of visitors, so take advantage.
Programming Your Air Conditioning While You're Away
Escaping on a fall getaway gives your air conditioning a rest after it's worked hard all summer. You might not want to turn it off entirely, however. A hot spell while you're away could result in peeling wallpaper and warped wood, while a burst of cool humidity could mean dampness and even mold. Set a programmable thermostat to a moderate temperature to help prevent nasty surprises when you return from your trip. Even better, install a smart thermostat, which receives local weather reports and adjusts the setting appropriately to keep your home's interior dry and cool.
Fall colors are one of nature's most beautiful displays, and worth taking a little time off to go and see. When your air conditioning system has a programmable or smart thermostat, you can have peace of mind knowing that your home is at the optimum temperature while you're away. Contact Cox Heating & Air Conditioning for more advice and information.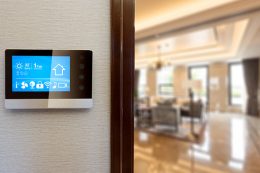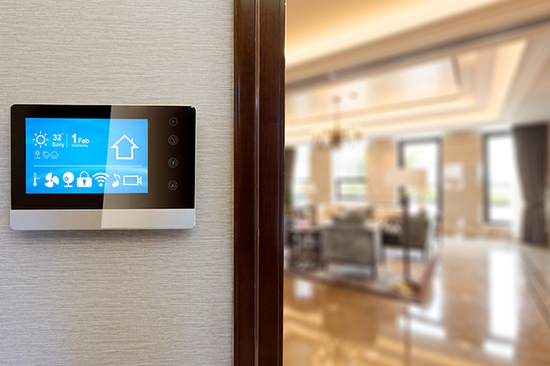 Hot, sticky weather is one of the downsides of late summer that can last well into the fall, and running your home's air conditioning often results in high energy bills. Fortunately, by following a few green tips, you and your family can enjoy a cool house without wasting energy or stretching the household budget. Avoiding late summer heat is a simple matter using air conditioning wisely and keeping the cool air in and the heat out of your home.
Programmable Thermostats
One of the best green tips for using air conditioning effectively is to install a programmable thermostat, which cools the house to a comfortable temperature when the family most needs it. With a programmable thermostat, the air conditioning can be set to a lower temperature during morning and evenings when most people are home, and at a higher temperature during the main part of the day when the house is often empty.
Air Conditioning Temperatures
A common misconception about air conditioning units is that setting the temperature very low cools a room quickly. In fact, low-temperature settings on air conditioners don't increase the speed that the room cools, but they do increase energy costs. Most people are comfortable at 78 degrees Fahrenheit, but you can experiment to find what temperature suits your family best. Higher temperature settings use less energy.
Air Conditioning Maintenance
A poorly maintained air conditioning unit requires more energy to achieve the same reduction in indoor temperatures as a well-maintained unit. Arrange regular services for your unit, including filter changes and coil cleaning. If your air conditioning system is older than 10 years, it's time to consider an upgrade. Modern HVAC systems are often more energy efficient and more effective at cooling the home than older models.
Fans
Using fans in tandem with air conditioners boosts cooling power. Ceiling fans and portable fans cost little to run but move the cool air around the room. Consequently, you can set your air conditioner at a higher temperature and achieve the same cooling effect.
Sealing Gaps and Cracks
Just as heat can escape through gaps and cracks during winter, cool air leaves the home through the same routes. As a result, air conditioners must work harder and use more energy to keep indoor temperatures down. Seal gaps around door frames and windows with silicone caulk, and tape up leaks in HVAC ductwork.
Making the best use of your air conditioning unit means you don't have to sacrifice your peace of mind to keep your home cool and comfortable. Contact a professional contractor for more advice about how you can improve the efficiency of your air conditioning.