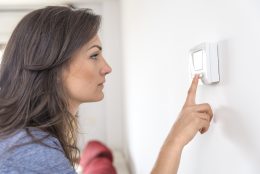 As Tampa temperatures rise, keeping your home cool and comfortable becomes increasingly important. But climate control at home isn't always easy, especially if you live with family members who have differing air-temperature preferences. If setting the thermostat for your air conditioning leaves you feeling battle-weary, these tips for winning the war over the thermostat will help.
Go Green
Save some green while keeping your home cool, dehumidified and at a moderate temperature that even family members who mind the cold can withstand. The U.S. Department of Energy recommends setting your air conditioning to 78 degrees Fahrenheit while you're home and to higher temperatures while you're away for maximum energy efficiency. Programmable thermostats make it easier than ever to operate HVAC systems efficiently, and you can set them to adjust the temperature before you come home so your air conditioning feels comfortable when you arrive.
Use Fans Strategically
Using ceiling fans lets you raise your HVAC system's thermostat setting by approximately 4 degrees without sacrificing comfort. This is particularly important when you live in a home with family members who have varying air conditioning preferences. You can keep the thermostat set at 78F to keep everybody happy, and anyone who likes things cooler should have a ceiling fan. The wind chill effect fans provide minimizes the need to crank the air conditioning up.
Layer Up
Some people naturally mind the chill of the A/C, while others find temperatures above 75F too warm. How do you win? Everyone can dress appropriately for his or her comfort. Wearing lighter clothing helps keep people who mind the heat cooler, while anyone who's always cold should consider wearing light layers to keep warm without heating up everyone else in the house.
Chill Out
Do you mind the heat? There are ways to keep cool without changing your air conditioning settings. Examples include:
Filling a bowl with ice or ice packs and positioning it in front of a large fan for chilled comfort
Switching to light, breathable cotton sheets
Swapping your pillow for one filled with buckwheat hulls, which don't retain body heat like traditional pillow fillings do
Turning on exhaust fans to pull hot air out of the house after showering or cooking
Warm Up
Likewise, if you find yourself always feeling chilly, you can warm up your personal space without touching the thermostat. Examples include:
Keeping the door to your room closed to prevent the bulk of the air conditioning from flowing in
Sticking with warmer bedding like flannel sheets and a cozy quilt
Opening your window at night to let the ambient temperature in — just be sure to keep your door shut and close the window before the hottest morning hours
No matter how you prefer to set your air conditioning temperatures, keeping HVAC systems in tip-top shape improves your unit's efficiency and extends its life. Visit Cox Heating & Air Conditioning to learn more or to schedule an appointment today.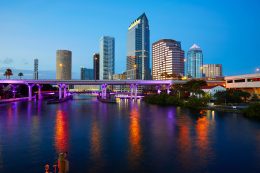 For Floridians, air conditioning isn't a luxury — it's as necessary as oxygen! Soaring humidity levels and scorching summer temperatures keep many Floridians indoors to avoid the worst of the swampy weather. Average temperatures in the Sunshine State range from 64 to 74 degrees Fahrenheit during winter and 80 F to 92 F during summer, with humidity levels averaging 73 to 90 percent. Let's face it. With that weather, air conditioning is like another family member — it's vital to everyday life. Other than keeping HVAC systems in tip-top shape, how do Floridians beat the heat? With some summer survival tips, of course!
Survival Tips
No matter how amazing your air conditioning is, you eventually have to venture outside. When you do:
1. Stay Hydrated
If you're undergoing HVAC installation or repairs or you simply plan to spend time outside, the number-one way to survive Florida's climate is to drink plenty of water. While your spirit might want to head to Margaritaville, your body needs to replenish electrolytes, which you lose while you're sweating under the hot Florida sun.
2. Consider Your Timing
When you want to go for a walk, run or do anything strenuous outside, time it for early morning or evening. Otherwise, once the high heat kicks in, you'll feel like you're broiling.
3. Wear Cooling Clothing
Stick with breathable fabrics that won't cling to your body. Light colors help you feel cooler, moisture-wicking materials can help keep you dry and sunglasses shield your eyes from the glare of the sizzling sun. Don't forget sunscreen!
Maintaining HVAC Systems
Before HVAC installation was possible, not many people lived in Florida. Without air conditioning, not many folks would stick around for the summer even today! Fortunately, HVAC systems are widely available now. With a little maintenance, you can chill out for many seasons to come.
1. Clean and Replace Filters Regularly
Prevent HVAC systems from becoming overworked — which could put your system at risk for a dreaded breakdown — by showing some love to your HVAC system's filters. Dirty, clogged filters not only make HVAC systems work harder, but they also reduce airflow. That means you won't be as cool as you want to be.
2. Free Up the Compressors
To stay cool, you need to make sure your unit's outdoor compressor stays free of all shrubs, plants and other debris. Thoroughly check and remove foliage in spring and fall.
3. Have a Reputable Service Company on Speed Dial
HVAC installation, repairs, tune-ups — service companies can do it all. Living in Florida, you already know how important it is to have a reliable company on call if your air stops working or you need professional maintenance to keep the cool air flowing.
Cox Heating & Air Conditioning has been providing expert professional services to Hillsborough and Pinellas counties since 1958. If you have questions or need help beating the heat, visit our website to learn more or schedule an appointment today.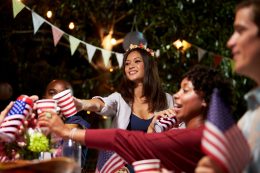 Whether you're planning some fun in the sun or a night under the stars, summer's heat adds a challenging element to entertaining. You want your guests to be comfortable, but you don't want to send your central air conditioning into overdrive — or your utility bills soaring. To keep your summer parties going strong without busting your budget, we rounded up some of our coolest entertaining tips that beat the heat without leaving your guests sweating it out.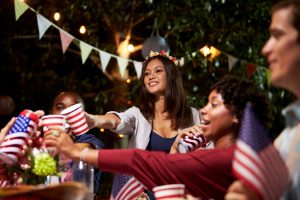 Location, Location, Location
When your AC service Tampa team is installing your HVAC system, have them place the central air conditioning's outdoor unit away from your outdoor entertaining space. Otherwise, every time you have friends or family over, you'll deal with some noise while the unit is on and notice the bulky appearance of the condenser unit. Instead, ask your AC service Tampa team to place the unit away from your entertaining area in a shaded spot to keep the unit cooler so it doesn't work as hard to chill your home.
Don't Leave Doors Open
During an outdoor party, it may be tempting to prop the door open to make it easier to carry things in and out, or even to let a little cool air out to the entertaining space. This choice undermines your central air conditioning's ability to operate efficiently. It can also result in your unit having to work harder to remove humidity from the air, which could leave it vulnerable to unnecessary stress or breakage.
Keep the House Cooler Without Cranking the A/C
In addition to keeping your windows and doors closed, there are two main ways to keep your home cooler: do your cooking outside, and avoid baking during the heat of the day. Grilling is perfect for summer entertaining, so plan to cook outside instead. Use a slow cooker to keep party foods warm or cook main dishes and sides at low temperatures without heating up the kitchen. Likewise, baking raises the temperature of your home. If you want to bake something special, try to get it in and out of the oven at night or in the early part of the morning when temperatures are cooler.
Keep Guests Cool and Comfortable
Does the summer heat send you running to the thermostat to crank up the A/C? You don't have to change your normal settings for your central air conditioning just for entertaining. Instead, create a cooling environment for your guests with plenty of ice-cold drinks, handheld fans and spray mist bottles to help them beat the summer heat while having fun.
Before you schedule your summer entertaining, show some love to your central air conditioning system with assistance from your local AC service Tampa team. From helping you find your perfect temperature to installing new units or repairing your existing one, Cox Heating & Air Conditioning has your central AC needs covered. Call us today to schedule a tune-up, or visit our website to learn more.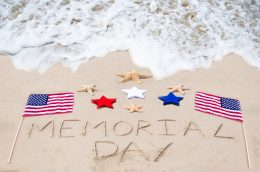 Memorial Day is the official kick-off for summer and the perfect time for HVAC installation or an upgrade. It's also a prime time to schedule a tune-up on your existing HVAC system to keep everything running smoothly for the season ahead. Whether you're planning a laid-back gathering or an epic barbecue bash, make sure your guests are cool and comfortable while they're inside with our tips on getting HVAC systems ready for a warm Florida summer.
Replace the Filters
Before you start using your HVAC system, replace the filters. Then, make sure you clean or replace them monthly during air-conditioning season. Dirty filters typically cause a unit to work too hard, freeze up and break down. Keeping your filters clean and replacing them regularly lets air flow more freely — your HVAC system will work better and can even remove more pollutants from the air.
Inspect the Inside Equipment
Take a quick look at the ductwork, vents, thermostats and drain lines. It's better to see if you need repairs before the summer heat hits.
Ductwork: This is particularly important if your HVAC installation was completed several years ago, but it's a good idea to get into the routine of checking your ductwork every year no matter how old your system is. Worn-out ductwork can leave HVAC systems vulnerable to inefficient cooling. Check for any loose components, musty odors or spots with damaged insulation.
Vents: Make sure the vents are free from things that might block airflow, like furniture that needs repositioning.
Thermostats: Does your home have an outdated thermostat? Upgrading to modern, programmable thermostats can help you save money on energy bills. The U.S. Department of Energy recommends keeping your thermostat programmed for warmer temperatures while you're away and cooler temperatures right before you return home to save up to 10 percent on your summer cooling bills.
Drain Lines: Find the indoor cooling coil — there should be a drain nearby. Flush one cup of bleach down the air conditioning drain, and rinse it with a gallon of fresh water. This keeps the drain line clear for the season.
Inspect the Outdoor Equipment
Once you're sure the indoor parts are in good shape, check the outdoor condenser unit to ensure it's free of blockages. Examine the electrical wiring and refrigerant lines for heavy wear that might necessitate professional servicing before you turn the system on.
Test the HVAC System
Before having a houseful of people over on a hot day, it's important to ensure HVAC systems are working well. Turn yours on for a short time to ensure it's cooling effectively. If it isn't working at peak performance, you have time to schedule a tune-up before the holiday.
Before you start making Memorial Day plans, see to it that your HVAC system is in tip-top shape. From simple maintenance to complete HVAC installation, Cox Heating & Air Conditioning has all your HVAC needs covered. Visit our website to learn more or schedule an appointment.